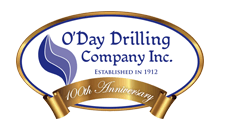 What We Do

Testimonials
Established as O'Day Drilling Company in 1912 by Pat O'Day, in Pearland, Texas.
Pat O'Day ran the business until 1956, mainly drilling residential, agricultural, and small commercial wells in Harris and Brazoria Counties.
In 1956, Orlen "Pat" O'Day took over the operations of O'Day Drilling Company. The company was focused on drilling water wells along the gulf coast and east Texas. The well sizes ranged from 2" to 12" in diameter and served the oil industry and related operations.
Michael Patrick O'Day entered the business in 1972 after graduating with a Bachelors degree in Business Administration from Sam Houston State University.
O'Day Drilling Company became incorporated in 1979. Soon after, Orlen "Pat" O'Day took on a new adventure in opening O'Day Rental and Hardware. Michael became the operating manager in 1984.
Mike O'Day retired in 2005 allowing son Patrick O'Day and daughter Amy O'Day Matejek to follow in their family's footsteps. Amy graduated in 2000 from Texas A & M University with a Bachelors degree in Business Management. Patrick graduated from Alvin Community College in 2003.
The company's current operations include water well drilling & service, specialty drilling including holes up to 168", depths to 3500', submersible pumps to 300 hp, directional drilling, camera services, and installation and repair of line shaft turbine pumps.
With more than twenty employees and having drilled more than 12,000 wells to date, O'Day Drilling Company, Inc. is drilling wells within 200 miles of Houston and servicing wells statewide. The company prides itself on continuing the traditions and goals set by Pat O'Day in 1912, "to drill the best water wells possible and to serve our customers in a manner befitting its heritage."