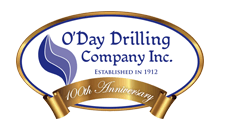 What We Do

News
Safety Award
O'Day Drilling was awarded the 2011 Safety Award by Shell Oil Company for continued dedication to Goal Zero!
100th Anniversary
O'Day Drilling Company proudly celebrates 100 years of water well drilling and service in the State of Texas.
Founders Award
O'Day Drilling Company is honored to receive the Founders Award from Baylor University as part of the Top Texas Family Businesses!